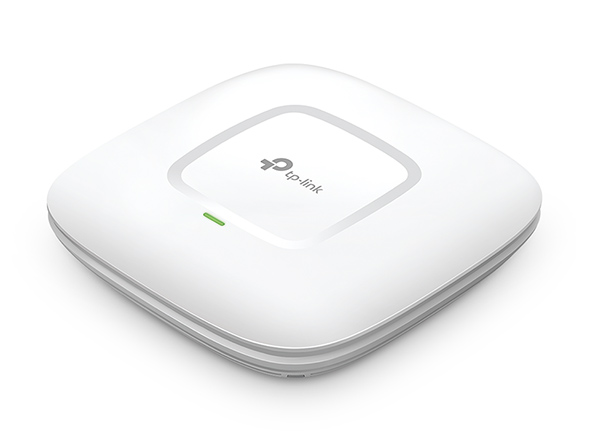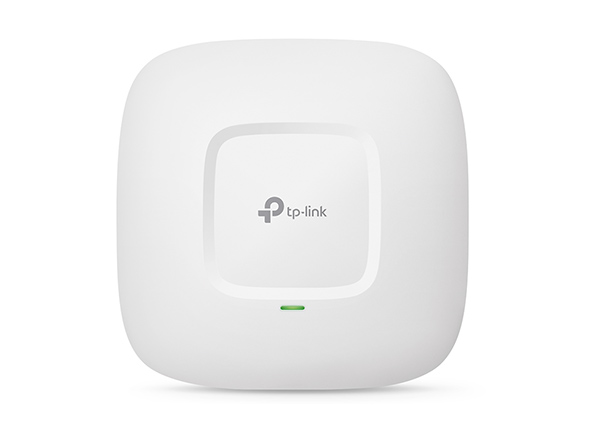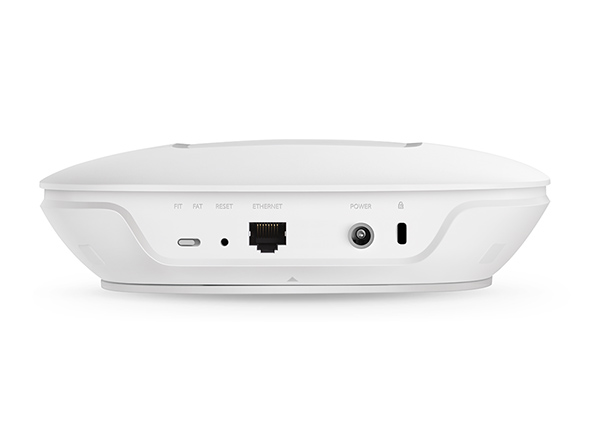 Bezdrátový access point N 300 Mbit/s s montáží na strop CAP300
Hardwarový controller umožňuje administrátorům snadno spravovat stovky CAP
Podpora napájení přes ethernet (PoE; 802.af) pro pohodlnou a cenově dostupnou instalaci
Jednoduché provedení montáže pro snadné přichycení na zeď či strop
Captive portál poskytuje pohodlnou metodu ověření pro hosty Wi-Fi sítě
Podniková třída zabezpečení Wi-Fi pomáhá snižovat hrozby bezpečnosti
Multi-SSID rozděluje několik bezdrátových sítí mezi různé typy uživatelů
Přepínatelný režim FAT/FIT (centrální řízení/stand alone)
Introducing the New Auranet CAP Series
Wi-Fi Solution
Ultimate Network Security and Stability
The businesses of today are demanding ever greater flexibility and security from their wireless networks to keep up in a world where things move fast. TP-Link's new Auranet CAP series delivers that and more. CAP access points work together with Auranet Wireless Controllers to provide scalable solutions with exceptional Wi-Fi performance and easy deployment.
Centralized
Management
Flexible
and Scalable
Redundancy
and Backup
Instant
Deployment
Centralized Management and Automatic Discovery
Manage hundreds of access points at once using Auranet Wireless Controllers. Adding new access points couldn't be simpler with automatic discovery. Controllers detect access points, apply your configuration settings and begin to centrally manage them as soon as they join the network, allowing you to concentrate on what matters.
Wireless Controller
New device
Existing devices
Manage Up to 500 APs without License Fees
Complete Scalability Without the License Fees
Expand your network when the time is right, without the complications. With no license fees at any stage, choose from a range of wireless controllers to match the scale of your ambitions.
High Specification
Controller Hardware
Auranet Wireless Controllers contain a high-specification 1GHz Dual-Core processor that guarantees network stability. Together with other sophisticated hardware, this provides superior reliability and wireless capabilities.
Backup You Can Rely On
Establish complete network stability by deploying wireless controllers in a dual-link arrangement. If one controller fails, another can take over to ensure your network remains free from disruption.
Backup Device
Unobtrusive Design
and Easy Installation
The CAP's easy-mount chassis makes
installation on a wall or ceiling surface simple and
fast, while the incorporation of Power over
Ethernet (PoE) support makes deployment
effortless and flexible. A smart, refined
appearance ensures Auranet CAP series access
points blend in seamlessly with almost any
interior design style.
Compact
Design
Flexible
Deproyment
Power over
Ethernet
Customized Guest
Authentication
Portal Authentication is great way to customize the guest Wi-Fi experience, while other authentication methods are also supported. Create your own unique authentication page to promote your business to guests and take complete control with a range of Wi-Fi settings.
Auranet CAP Series for Business WLAN Solution
PoE Switch
PoE Switch
Switch
Router
Internet
Wireless Controller
POE
Ethernet Cable
| | | |
| --- | --- | --- |
| Model | AC500 | AC50 |
| Product Description | AC500 Wireless Controller | AC50 Wireless Controller |
| Management Scale | Up to 500 APs | Up to 50 APs |
| Installation | Rack-mount | Desktop |
| Interface | Gigabit Ethernet Port*5 | 10/100Mbps Ethernet Port*5 |
| Dimensions(W*D*H) | 17.3*8.9*1.7in.(440*227*44mm) | 8.2*5.0*1.0i.(209*126.26mm) |
| AP Unified Configuration | √ | √ |
| AP Automatic Discovery | √ | √ |
| Band Steering | √ | √ |
| Captive Portal Authenticaton | √ | √ |
| Load Balance | √ | √ |
Model
CAP1750
CAP1200
CAP300
CAP300-Outdoor
Product Description
AC1750 Wireless Dual Band
Gigabit Access Point
AC1200 Wireless Dual Band
Gigabit Access Point
300Mbps Wireless N
Access Point
300Mbps Wireless N
Outdoor Access Point
Wireless Frequency
2.4GHz and 5GHz
2.4GHz and 5GHz
2.4GHz
2.4GHz
Maximum Data Rate
Up to 450Mbps(2.4GHz)
+1300 Mbps(5GHz)
Up to 300Mbps(2.4GHz)
+ 867 Mbps(5GHz)
Up to 300 Mbps
Up to 300 Mbps
Antennas
2.4GHz: 3*4dBi
5GHz: 3*5dBi
2.4GHz: 2*4dBi
5GHz: 2*4dBi
2*3dBi
2*5dBi (External)
Power over Ethernet(PoE)
IEEE 802.3at
IEEE 802.3at
IEEE 802.3at
IEEE 802.3at
Power Supply
PoE or external 12VDC/
1.5A power supply
PoE or external 12VDC/
1.5A power supply
PoE or external 9VDC/
0.6A power supply
PoE
Multiple SSIDs
16 ( 8 on each radio )
16 ( 8 on each radio )
8
8
Guest Network
√
√
√
√
Captive Portal Authentication
√
√
√
√
WMM
√
√
√
√
Hardwarový controller umožňuje administrátorům snadno spravovat stovky CAP
Podpora napájení přes ethernet (PoE; 802.af) pro pohodlnou a cenově dostupnou instalaci
Jednoduché provedení montáže pro snadné přichycení na zeď či strop
Kaptivníportál poskytuje pohodlnou metodu autentizace pro hosty Wi-Fi
Podniková třída zabezpečení Wi-Fi pomáhá snižovat hrozby bezpečnosti
Multi-SSID rozděluje několik bezdrátových sítí mezi různé typy uživatelů
Přepínatelný režim FAT/FIT (centrální řízení/stand alone)
300Mbit/s rychlost přenosu dat pro nepřerušované bezdrátové připojení
Omezení rychlosti pro jednotlivá SSID pro vymezení šířky pásma pro každého klienta
Kontrola přístupů vymezuje sadu limitů přístupu klienta k určitým segmentům sítě
Rozvrh restartu umožňuje, aby se všechny AP automaticky restartovaly v daný čas
WPA/WPA2-enterprise, 802.1X s ověřením zabezpečení RADIUS a s detekcí škodného access pointu zajišťují bezpečnost WLAN sítě
Multi-SSID rozděluje několik bezdrátových sítí mezi různé typy uživatelů
Rovnováha zatížení zajišťuje velkým podnikovým sítím zážitek z hladkého provozu sítě
Kompatibilní s 802.11 b/g/n výrobky
Odolný kryt zamezuje dopadu prachu na PCB přes postranní klapku, čímž zajistí dlouhý, nepřetržitý provoz
Poznámka: Hardwarový controller nabízí mnoho pokročilých funkcí.
HARDWARE FEATURES
Interface
Fast Ethernet (RJ-45) Port *1(Support IEEE802.3af PoE)
Button
Reset, FIT/FAT
Power Supply
PoE or external 9VDC/0.6A power supply
Power Consumption
5W
Wireless Standards
IEEE 802.11n, IEEE 802.11g, IEEE 802.11b
Dimensions ( W x D x H )
7.1 x 7.1 x 1.9 in. (180*180*47.5mm)
Antenna Type
Internal 2* 3dBi Omni
Mounting
Ceiling /Wall Mounting (Kits included)
Physical Security Lock
Kensington Lock Slot
Watch Dog
Yes
WIRELESS FEATURES
Wireless Standards
IEEE 802.11n, IEEE 802.11g, IEEE 802.11b
Frequency
2.4-2.4835GHz
Signal Rate
11n: Up to 300Mbps(dynamic)11g: Up to 54Mbps(dynamic)11b: Up to 11Mbps(dynamic)
Reception Sensitivity
300M: -71dBm@10% PER150M: -75dBm@10% PER54M: -78dBm@10% PER11M: -93dBm@8% PER6M: -92dBm@10% PER1M: -96dBm@8% PER
Transmission Power
CE: <20dBmFCC: <26dBm
SOFTWARE FEATURES
Wireless Functions
Multiple SSIDs (Up to 8 SSIDs)Enable/Disable Wireless RadioAutomatic Channel AssignmentTransmit Power Control (Adjust Transmit Power on dBm)QoS(WMM)Reboot ScheduleWireless ScheduleWireless Statistics based on SSID/AP/Client
Wireless Security
Wireless Mac Address FilteringWireless Isolation Between ClientsWPA / WPA2-Enterprise,WPA-PSK / WPA2-PSK
SOFTWARE FEATURE IN FAT MODE
Wireless Functions
Multiple SSIDs (Up to 8 SSIDs)Enable/Disable Wireless RadioAutomatic Channel AssignmentTransmit Power Control (Adjust Transmit Power on dBm)QoS(WMM)Reboot ScheduleWireless ScheduleWireless Statistics based on SSID/AP/Client
Wireless Security
SOFTWARE FEATURES IN FIT MODE
Wireless Functions
Multiple SSIDs (Up to 8 SSIDs)Enable/Disable Wireless RadioAutomatic Channel AssignmentTransmit Power Control (Adjust Transmit Power on dBm)WMMReboot ScheduleWireless ScheduleWireless Statistics based on SSID/AP/ClientLoad Balance
Wireless Security
Captive Portal AuthenticationMac Address AuthenticationWireless Isolation Between ClientsSSID to VLAN MappingWPA / WPA2-Enterprise,WPA-PSK / WPA2-PSK
OTHERS
Certification
CE, FCC, RoHS
Package Contents
300Mbps Wireless N Ceiling Mount Access Point CAP300Power AdapterMounting Kits,Installation Guide
System Requirements
Microsoft Windows 10/8/7/Vista/XP
Environment
Operating Temperature: 0℃~40℃ (32℉~104℉)Storage Temperature: -40℃~70℃ (-40℉~158℉)Operating Humidity: 10%~90% non-condensingStorage Humidity: 5%~90% non-condensing